Uncategorized
Devoted 93-Year-Old Husband Visits Wife in Nursing Home Every Day: 'Do You Know I Love You?'
Sam and Shirley Kleiman were a lovely couple from Winnipeg, Manitoba, Canada, who tied the knot in 1950 and had never been apart. Over the years, they built a beautiful life together, reveling in marital bliss and embarking on the extraordinary journey of parenthood.
But as is often the case, separation and love go hand in hand—a time came when the Kleimans had to experience physical separation, even though they knew their hearts would always beat in unison. Take a look at their phenomenal story of love, patience, commitment, and reunion.
The Daily Visits
After Shirley suffered a stroke, she required extensive care and treatment and was shifted to The Saul & Claribel Simkin Centre, a nursing facility for senior citizens. Being apart from his loving wife was challenging for Sam, so he visited her as often as possible.
But when Sam saw his wife of 71 years in person, he was overjoyed and heaved a sigh of relief.
He often dropped by the care home every morning after breakfast and took Shirley for a stroll. Sometimes, the couple would sit down in a quiet spot to chat—reflecting on their life together and envisioning a happy, prosperous future. There were times when the thoughtful husband took his wife for a ride around the area.
With Shirley as his navigator, Sam never worried about anything except wishing with all his heart and soul for her recovery. Despite being apart for three years, what kept Mr. Kleiman going was the precious little moments he spent with his wife.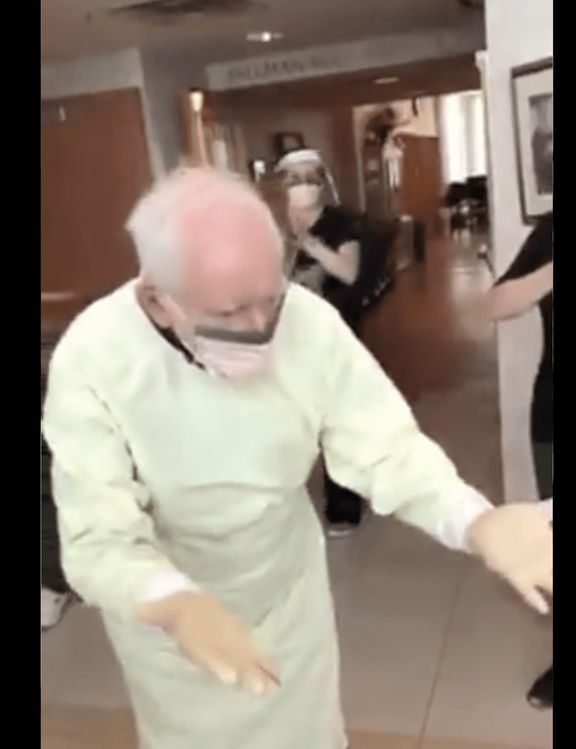 Separated by a Global Pandemic
But everything changed for the world and Sam when COVID-19 hit in 2020, sending people into lockdown and quarantine regimes. With social distancing becoming the order of the day, the Winnipeg couple's daily visits were also impacted.
After the new safety measures became effective, the assisted home restricted physical contact between residents and visitors. That was sad news for the Kleimans because Sam could no longer take his wife for long walks or drives around the neighborhood.
Shirley's nursing center began adhering to the new protocols in March 2020 in an attempt to prevent the spread of the coronavirus pandemic. However, even the "new normal" couldn't keep the lovebirds apart, as Sam was determined to find a way to make his daily visits possible.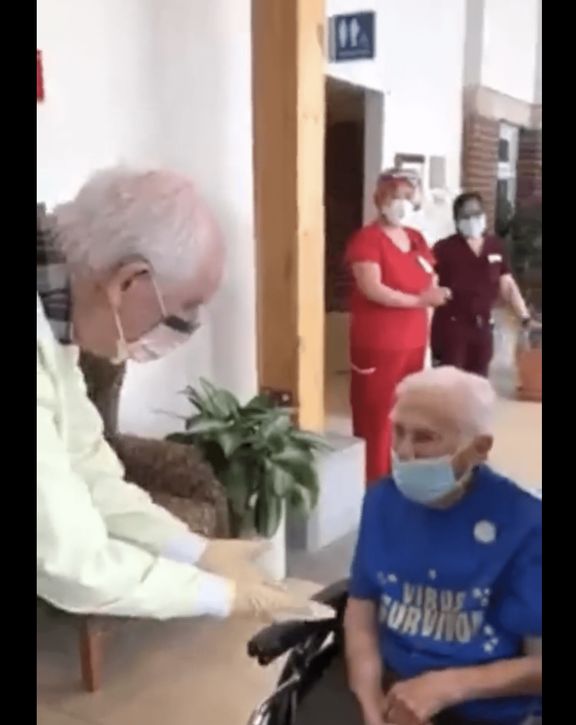 Love through the Window
So, after much thought, Sam drove to the assisted home in southwest Winnipeg, pulled a chair near the window, and sat, waiting for his wife. Shortly afterward, a carer wheeled Shirley out of her bedroom and brought her close to where her husband stood on the other side of the glass.
When Sam, 93, saw his beloved Shirley, he tapped on the window to draw her attention and blew tender kisses in her direction. The 92-year-old lady, who struggled with speech after her stroke, returned her husband's gesture of love by blowing kisses in his direction.
After that, Shirley was handed a phone by her nurse to hear Sam's voice, who affectionately told her, "Hi, sweetheart. Do you know I love you?" Immediately, her face lit up, and her lips curved into his favorite smile, unable to say much after struggling with speech issues following her stroke.
Even the nursing home staff couldn't help but dote on the couple's lovely connection and shared their picture in a touching post on Facebook. "How can this be so heartwarming and heartbreaking all in one picture?! These two lovebirds, blowing kisses goodbye, are to be envied, either way (sic)!" read the caption.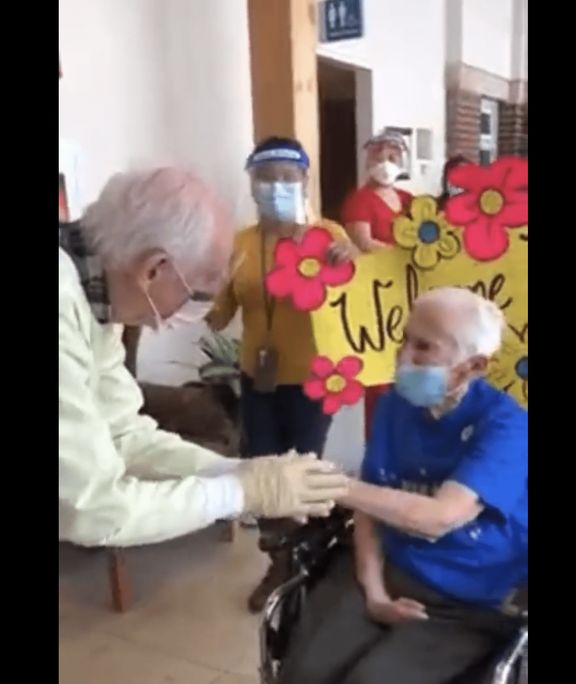 Never Apart
Even with a glass wall between them, Sam believed he wasn't separated from his dear wife because their marriage was a partnership built on the foundations of love and trust. The Canadian man noted that any relationship based on trust was powerful enough to overcome the odds. He added:
"We may be apart in that we can't be physically close to one another, but we're not apart."
Sam and Shirley endured many challenges together, including the death of two of their three children. But through it all, their love, commitment, and devotion kept them going, and they learned to confide in each other.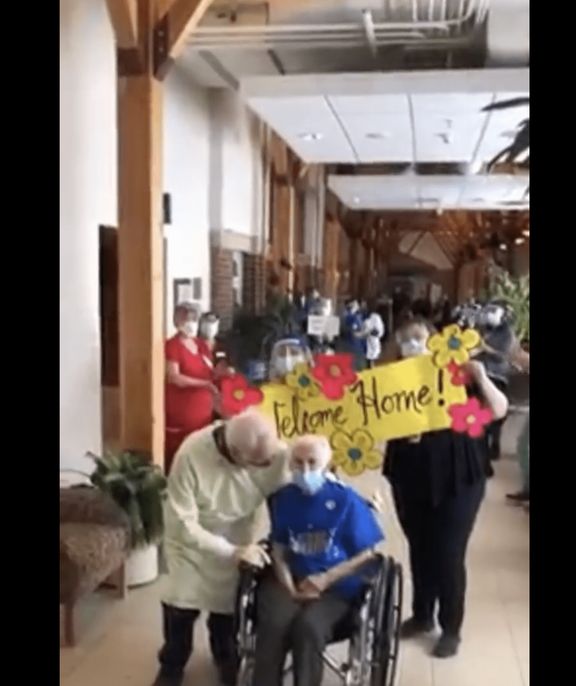 Together at Last
After being apart for four years, the Kleimans were reunited in January 2022—a momentous occasion that the Simkins Center celebrated warmly. According to the nursing home staff, Shirley went into isolation after contracting COVID-19, which meant her husband couldn't visit her anymore.
But when Sam saw his wife of 71 years in person, he was overjoyed and heaved a sigh of relief. A remarkable recovery parade was held as Shirley arrived in her wheelchair and met her husband after what felt like an eternity to the pair. A tweet capturing their heartwarming reunion read:
"My baba is out of Covid protocol and was reunited with my zaida. These two are 71 years married and still going strong (sic)."
The Online Response
Many netizens were touched by the elderly couple's story of love, patience, and unswerving commitment and flooded the comment section with messages of appreciation and praise. Here are a few comments that they wrote:
"That is love!"
— (@miriam.cook.5243) May 9, 2020
"God Bless them!!!"
— (@ida.smith.169405) May 12, 2020
"That is really true love brought tears to my eyes (sic)."
— (@pam.goodwin.newbery) May 2, 2020
"Some of us just weren't meant to have a life partner. I am so happy for these two and for all that have life long commitment to their true love."
— (@judy.springerkelly) May 6, 2020
What Sam and Shirley share is rare and beautiful, and we hope nothing changes their feelings for each other. Click here to read another story about a couple married for 70 years who reunited after months apart and couldn't hold back their tears while kissing.